MusicFun Studio Policies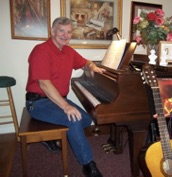 The MusicFun Studio strives to provide quality music lessons by integrating a variety of teaching methods, activities, and technology. Students will receive private as well as group lessons and will be given multiple performance opportunities throughout the year. The following policies explain how The MusicFun Studio operates best and what is expected of Students and Parents.
My teaching philosophy centers on creating dedicated music students with a life-long love of music. Thank you for allowing me the privilege of teaching your child music lessons! In order to make our time the most productive, the policies below reflect those goals!
Please, read this Studio Policy and Sign and Fill-In the last two pages.
1. Registration
All Current / Alumni Students / Families will need to Register for their next Semester of lessons, beginning with the Summer 2020 Semester this year. Some Policy and Tuition changes have taken place. So, No Surprises is the goal.
The First Month's Tuition must accompany Registration to secure your lesson time.
Registration is now open with Tuition Down for:
Current and Alumni Students who return the Registration Form,
New Students should Register on this webSite on Page "New Student Registration"
At this time I am offering Registration for the Summer Months of 2020. Tuition is based on $20 for a 30 minute lesson and is Due at the beginning of each Month. Please, consider your family Calendar and my summer Calendar and make your intentions known that I may keep Calendar Time for you.
The Fall/Spring 2020-2021 Calendar will be opened to those with First Month's Tuition paid:
Summer Students get first choice for the Fall Schedule
New Registered Students, (Waiting), August 23rd
Shared (Private) Lessons: Music Theory is as important to music, as the sounds of alphabet consonants and vowels is to Reading. This year I have added a theory book to our curriculum and have offered most students a additional thirty minutes to continue this study. This time has been coupled with another student to equalize my time and tuition. I will continue this practice where appropriate. Families do this automatically. As students advance, their lesson time will need to increase. Tuition for 45-minute private lessons is $30.00 45 - minute lessons will be scheduled as time permits.
2. Location and Schedule
Lessons are offered at the MusicFun Studio, 1417 Whitewing Avenue, McAllen. To give everyone a productive lesson, and as uninterrupted, as possible, it is very important that you observe the following:
Please wait in your car or at the front door until it is two minutes before your lesson time, then come in quietly and sit down.
My break times are designed to help me re-group, organize, breathe, and do other necessary things to assist myself in teaching you most efficiently. Because of this, I ask that you not arrive early or stay later than your lesson time.
To help prevent the spread of illness, all students must wash their hands before playing the piano, using the technology or pencils. (That is Everyone) There is soap in the bathroom or hand sanitizer on the table.
Parents are required to be available during lessons (either at the lesson or via cell phone). In the event of an emergency, if a parent cannot be reached, you agree that I will be permitted to exercise my discretion in providing care and treatment for your child. Parents agree to hold me harmless for any such care and treatment decisions.
3. Holidays / Studio Breaks / Teacher Cancellation
Please Note that the studio is NOT closed on every national holiday. Sometimes Monday students WILL have lessons on a day when there is no school. The studio is ALWAYS closed on:
New Year's Day
Thanksgiving Day/ Wednesday & WeekEnd
Christmas Holiday
Spring Break (Stock Show and All-Valley Cotton Style Show - Sunday PM)
Between Semesters
Additional Studio Breaks or days off may occur during holiday breaks or between semesters, and are always announced well in advance. The calendar is available and subject to change.
If the Teacher Must Cancel Lessons (this happens very rarely), students will be offered group lessons to make up for the missed lesson(s), or tuition may be prorated.
Studio breaks/closings: Additional studio breaks are announced on the studio calendar, which is accessible to students via the MusicFun Portal section of this site.
4. New Students, Alumni and the Waiting List
New Students are normally accepted at the beginning of each term – Spring (Jan.), Summer (June), and Fall (Sept.). This is a time when schedules are adjusted, so, be patient.
Interested in checking out the teacher and studio? Want to be added to the Waiting List? Please contact me using the form online. See the Studio Policies for additional information. And Register your self or child on the Student Registration Page found on the following webPage.
Visit online: musicfun.mymusicstaff.com
5. Lesson Times
I try to work with each of my students in order to give them the most convenient lesson time. Please be as flexible as possible when informing me of your available times.
6. Attendance
Regular and prompt attendance is required to make appropriate progress. If you are unable to make it to a lesson, please call me, text me and leave a message.
Text/Phone: (956) 605-2694;
eMail: info@musicfunwithmrmorrow.com
Parents are responsible for the Tuition of all calendar entries. MakeUp Credits are given for up to two absences per Semester for any reason. A few available Lesson Times are available through the week and can be found in your personal MusicFun Student Portal via your User ID (eMail address) and Password.
Approximately 2 weeks of each Semester may be given Group Lessons; the remainder will be private lessons and Recital. You will be notified of any additional costs for materials such as books or special projects. You should expect a cost of $35-50 per Semester for Music Books. Payment is due in advance, by your first lesson of every month.

7. Summer lessons are encouraged. However, gaps in your summer schedule mean that I will unfortunately have to fill the Fall Lesson time with a Summer Student and you may forfeit your spot in the fall schedule.
8. Tuition Payments and Schedule
MusicFun Studio accepts Checks, Cash, and Credit/Debit (online payment). Invoices are sent before the first of the month.
Tuition reserves your weekly time slot and studio membership. It also covers the cost of:
Lesson planning and repertoire selection
Piano tuning and maintenance
Recital venues and programs
Professional studio memberships
Incentive programs and game materials
Studio rent, sole-proprietorship taxes, and studio insurance and more.
Tuition does not include the cost of music. Students should expect to spend approximately $35 - $50 per year on repertoire.
$5 Late Fee for all payments received past the 10th of the month
$30 Fee for all NSF Checks
Forgot your payment? Miss payment at the first lesson? Pay online or drop-off/mail payment to avoid the late fee. Auto-Pay is available through your MusicFun Portal
If payment is not received by the second lesson of the month… no lesson will be given.
Should something come up where you cannot financially fulfill your commitment to your lessons, advanced notice and open, ongoing communication is appreciated and encouraged!
Families should expect a yearly increase in tuition appropriate to cost of living increases and services offered.
9. Missed Lessons
Because specific times are set aside for specific students, a student who does not attend a lesson will simply miss the benefit of that lesson. Tuition covers far more than the time with your child, so you do not need to worry that missing a lesson means wasting money. I frequently use missed lessons to plan for your child's progress, locate materials, etc. See the "Where Does My Tuition Go?" brochure found in the "Library and Downloads" of your MusicFun Student Portal for more details. There are no refunds or discounts given unless I am unable to teach the promised number of lessons. UnUsed MakeUp Credits will expire at the end of each Semester.
10. Missed Lesson Options
FaceTime Lessons during the student's regular lesson time are also an option. In the case of inclement weather—please check your email or the website for lesson status.
11. Illness
Students who are ill should not come to their lessons. I reserve the right to send a student home if they arrive sick. If students are only mildly ill, please TEXT me and we can do a FaceTime Lesson. If you have a computer / phone / iPad with a camera close to your piano or a laptop that you can move close to the piano, please create a free FaceTime, Skype account (ahead of time) and add my name and phone number to your contacts (or add my phone # to your FaceTime). This will allow you to call me and have a lesson with you over the internet, if need be. Coming Soon: Skype Lessons Lessons.
12. Communication
Please keep in contact with me regarding your child's progress and practice habits. TEXT is my most efficient brief method of communication (956) 605-2594, or you may eMail me at: info@musicfunwithmrmorrow.com.
I send an eMail Reminder 36 Hours before each Lesson/Event and a TEXT Reminder 2 hours before each Lesson/Event.
You will receive a Receipt for Payment by eMail and Text.
You have a very good and informative online Student Portal. This is a source of Announcements, Calendar, Account and more. You will find webSite "HELP" in the upper right hand corner of your Student Portal to explain it's use. Check it out and make it accessible by putting my name, phone and address into your Cell Phone/Computer Contacts and my website into your browser Bookmarks.
Jim Morrow, (956) 605-2594, 1417 Whitewing Avenue, McAllen, Tx, 78501
eMail: info@musicfunwithmrmorrow.com
13.Website Privacy
At times, I will post schedules, make announcements, and write articles on the blog using student's first names only (no pictures). Pictures and videos of my students may be posted periodically on my website with no names attached. Student's music and recordings from studio competitions may be posted on the blog for the benefit of helping other parents and students.

14. Recitals and Opportunities
Many opportunities for recitals and other musical events occur every year. I keep my students informed of these opportunities through a periodic newsletter. I do encourage my students to participate in all studio activities including our holiday and spring recital.
15. Books and Materials
I will let you know what books are necessary for the student's progress, obtaining them will usually be my responsibility. I understand the expense that books can incur, and I promise that I will only choose books that I think are necessary and beneficial for the student's progress.
Each student will also need to purchase a 1", 3 ring binder with pockets and at least 4 dividers. This will be used to keep assignments, handouts and Home Practice Journals in order. It can also be used as a scrapbook for recitals, competitions, etc. Students should stock this binder with manuscript paper, notebook paper and assignment sheets (sent by eMail), available in your MusicFun Portal "Library and Downloads".
16. Practice Time and Other Requirements
I like to emphasize the quality versus quantity of time practiced. However, in order to get good quality practice, a minimum of 30 minutes a day, five days a week is necessary. As students advance and mature, this requirement will increase (Students taking 45-minute lessons should practice at least 45 minutes daily). I try to be very specific about practice techniques to the student and the parent, so that each knows of what quality practice consists. Students are required to report on their practice session in their practice journal. Parents should read their children's assignments ( available by eMail) and comment and initial in the appropriate box. Please make comments on how you think your child's practice is going at home.
Weekly assignments of theory, technique and web rewards are of utmost importance. Theory should be completed at the first of the week andTechnique should be practiced every day to help enhance the learning process.
Practice on a fine instrument or piano is required to make progress. Please try to have your piano tuned once a year (the best times are spring or fall).
A metronome (or CD Player with appropriate CD) is necessary for all students. Fingernails must be kept short at all times.
Parents should plan to attend their child's lesson at least once every 2 months (more if necessary). This helps keep you in touch with your child's progress, accomplishments, and difficulties.
17. Discontinuation of Lessons
Music is a lifelong pursuit, but lessons are not always possible for a multitude of reasons. Whatever the reason, I will never take discontinuation of lessons personally. Remember: if you are unsatisfied with your lessons for any reason or if you are contemplating quitting lessons, please speak freely to me about your concerns.
Discontinuation of lessons requires a 3 week notice – This gives us time to wrap up any current projects and discuss how the student can continue to follow their music goals. This also allows me the necessary time to fill that empty lesson slot so that I can avoid a loss in income. Thank you for your consideration.
At that time, I will pro-rate the tuition for your final month to reflect the number of lessons that you have received based on the last lesson date. You will be required to pay this balance.
18. Dismissals and Termination
Mutual respect is a key goal in our studio. As studio owner, regrettably, I will have to dismiss a student if any of these circumstances occur:
Failure to pay tuition on time
Persistent absences
Purposeful Uncooperative Attitude
Failure to follow practice as instructed
Lack of progress due to insufficient practice or unfulfilled requirements.
Thank you for abiding by these policies to help your child's lessons be the most productive and efficient! Thank you also for the privilege of allowing me to teach you or your children! I look forward to a great year.
Sincerely,
Jim Morrow